A successful content marketing strategy is highly dependent on how attractive your content is both for search engines and potential customers. Search algorithms have evolved to provide the most relevant content for search queries.
If years ago the best way to get a top spot in the SERP was targeting single keywords, today the game has changed. Google algorithms have become clever enough not only to analyze the pages stuffed with keywords but recognize the search intent of users offering relevant pages linked by topics.
This approach when content on close topics is united by hyperlinks is called topic clustering. A topic cluster is a group of web pages on various aspects of one topic built around one ultimate pillar page. This page covers the broad topic and the most general keywords offering hyperlinks to other cluster pages focused on various aspects of the main topic more narrowly.
We have already discussed what is content clustering and why it is important for SEO on this page. Today we will focus on content pillars, their types, and other key points.
What Are Content Pillars in Content Strategy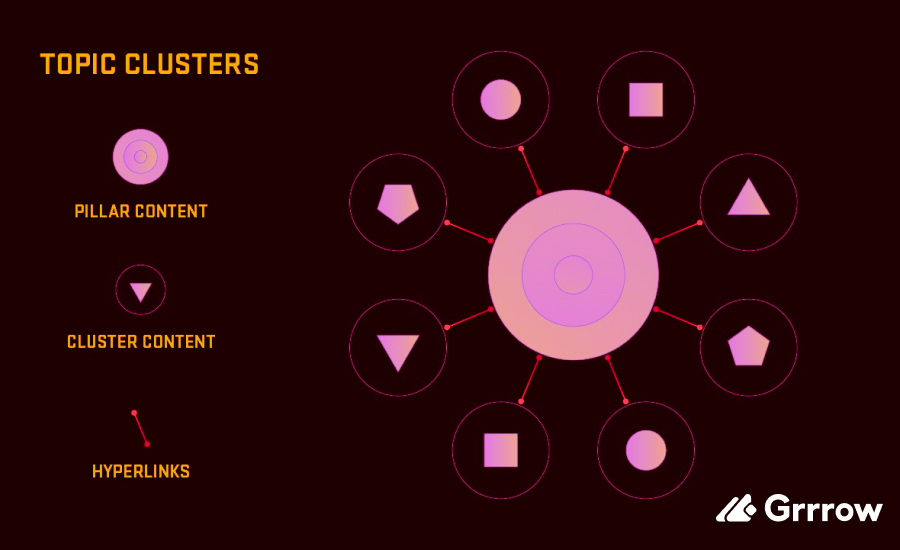 Content Pillar is a key topic for all your content clusters. An ultimate pillar page usually covers all the main keywords and answers the general questions on the parent topic. The pillar page should be available from the main page of your website and contain about 2500-3000 words.
The content pillar page is a central hub in your content strategy that links all other cluster pages and organizes your website structure. It also serves the main purpose – to provide a complete, definitive exploration of a topic and provide a reader with all necessary information in one place.
Moreover, content pillar pages allow not only bring value to readers but has a positive effect on search engines. Using content pillars you create a hierarchy of pages on your website, that allows Google algorithms to easily analyze it. When your high-quality content is interconnected by hyperlinks with the pillar page you have a higher chance of good ranking in SERPs.
Types of Content Pillar Pages in Content Strategy
Depending on the marketing goals you can create three types of pillar content pages on your website: "Guide", "What Is", and "How To".
The "Guide" Pages
Guide pillar pages are aimed to give a comprehensive overview of the topic. It covers various aspects but doesn't go deep into them. That's why this kind of page should be supported by cluster pages with a wide variety of supportive information and more detailed information on the subject.
Ultimate Guide pages are created to make your website an authority on the topic. It usually has over 2000 words and it can be a real challenge to engage and retain a user. That's why this kind of page should have multiple interactive elements and pages that link to support it.
You can put a note about how long it will take to read this page and make a navigation menu for users. A good option is to make this navigation bar float. It will allow readers to jump to different sections on the page. Various videos, infographics, or FAQs will also make tons of plain text look more attractive and engage the user.
Guide pillar pages are the best way to make your website an authoritative destination for an interested user and expand knowledge on various aspects of your topic.
The "How-To" Pages
The "How-To" pages allow you to reach people looking for solutions and improve the processes they need. With relevant and high-quality content on the "How-To" pages, you can easily position your brand as an expert in a certain subject.
This kind of page is best suited for tutorials, and instructions and opens many doors for internal linking with supporting topic clusters. You can link this page to more detailed guides on certain topics and make the navigation for users smoother.
By offering a solution on the "How-To" pillar page and supporting cluster pages you can successfully address your reader's pain points and offer much useful and high-quality information. Step-by-step manuals with screenshots, FAQs, or video tutorials are highly appreciated.
The "What Is" Pages
"What is…" is one of the most popular queries on Google and other search systems. And this kind of pillar page can serve as an ultimate explanation of the subject. It can be both a stand-alone resource with all the necessary information and a hub for a myriad of cluster pages covering all aspects of the subject. Like "Guide" pages this type is also authoritative.
Longread blog posts are one of the best types of content for this kind of pillar page. You can divide the blog posts into sections and interlink them with other cluster pages. Various media components like pictures, videos, or infographics will serve great to promote "What Is" content pillars in social media or email marketing.
The well-organized "What Is" pillar page will comply with the requirements of the Google algorithm and become attractive not only for readers but for search engines as well.
Quick Takeaways About Using Content Pillar in Content Strategy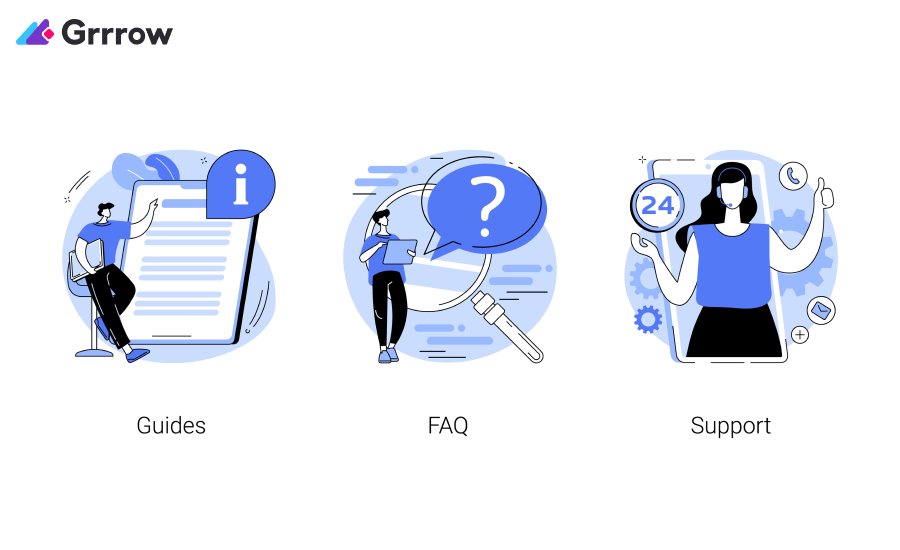 Pillar content is an ultimate form of content that allows you to provide comprehensive information on a certain topic and become a real authority for your audience.
High-quality pillar content should stay evergreen and shouldn't lose its relevance over time because it can reflect the changing industry trends.
Using content pillars and clusters in your website you organize content on it making the website attractive both for search engines and readers.
Make a research of your audience before creating pillar content. This will help you to find the most relevant topics for your "What Is" or "How To" pages.
With a well-organized pillar content strategy, you build a loyal fanbase of visitors who are more likely to convert into loyal customers or brand advocates.
Build your brand's pillar content strategy today with Grrrow.me!