The world SaaS (Software-as-a-Service) market has become a honey pie for startups and big companies. In 2021, its net worth was estimated to be about 152 billion U.S. dollars and predicted to reach 208 billion U.S. dollars by 2023. Today, we are witnessing the era of startups in software development. But what pushes a small startup to grow into a massive business that overcomes all market instabilities?
World SaaS companies have an answer. SaaS Content Marketing has become a key aspect of their business success. The focus on quality content that can sell services becomes one of the main vectors of popular business models.
In this article, we will have a brief overview of all the "whats" and "whys" of SaaS content marketing. We will try to figure out why it is important, how it can be evaluated, and what metrics are applicable for successful content marketing influence. Let's start!
Why is SaaS content marketing important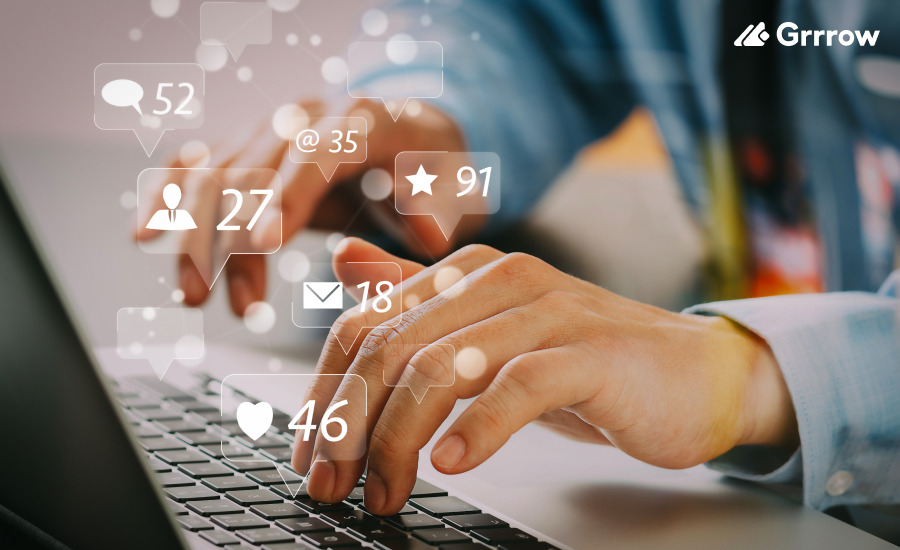 Content Marketing plays an important role in SaaS business models. It answers the questions of the customers and explains how SaaS solution can solve their issues. Moreover, consistent and high-quality content can engage the audience and have an impact on their decision-making. Therefore, SaaS Content Marketing can be a solid bridge between the product and the audience, as it can develop relationships and make the customers believe in your product.
Consistent and strong content can be such an important asset to your business along with personnel, technologies, and information. It creates a positive experience for your clients, builds trust, and therefore scales your business. But how to predict how successful your business will be with this strategic marketing approach? What metrics can be applied to such a seemingly creative aspect in general?
How to Count SaaS Content Performance
Creating consistent and valuable content for your customers is one-half of the voyage. And estimating the success of your SaaS content marketing approach is the other one.
Factors that indicate the success or failure of your content marketing plan may vary. With such a variety of metrics out there, it can be difficult enough to figure out which of them are important for your goals and which are not. So what are the key SaaS metrics?
Website traffic
Website traffic means the number of netizens visiting the website. Publishing more consistent and quality content will push the attractiveness of your website to search engines and the number of visitors.
Website traffic is a key metric to analyze the success of your website. Moreover, it is the first aspect for companies to identify ways to improve and extend business. The traffic shows if the website is useful and if it can solve the issues of the users.
Remember, the more people see your site, the more potential clients you will have. But of course, site traffic is not the only key metric to measure the performance of your SaaS content. It's time for the next aspect.
Bounce rate
The bounce rate shows if your content meets the expectations of the visitors. It refers to users who visited your website and left it without any interaction with any links or call-to-action buttons.
The bounce rate is a tricky SaaS metric. On the one hand, a high bounce rate can signalize that the content on the page is poor, CTAs are unattractive and visual content is irrelevant. But on the other hand, bounce rate can mean that your content is relevant and the visitor receives all the answers from it.
The importance of bounce rates relies on the type of content and the traffic source. For example, bounce rate is very important on a sale page like landing, home, or service pages, where the user has commercial intent. And it just doesn't matter on informational pages, like blog posts or articles.
Average session duration
This key SaaS metric is the amount of time that users spend on the page or website. It can tell much about the content on the page. For example, it can tell if your content is formatted well, are the blocks of text readable, are the images helpful and relevant. In general, this metric explains the average engagement rate of your website.
To improve this aspect, you can interlink your pages on the website. This will encourage the reader to view other pages and rise the total session duration. In addition, you can answer the related questions of the user or solve the associated issues in them.
This key SaaS metric is closely related to "Average time on page". Both are essential to figuring out if your content generates real interest.
Lead generation
One of the main intentions of the content is to generate leads. It helps to find out the volume of generated potential customers. This key metric can be obtained from CTAs, contact forms, and subscriptions of budget requests. A high lead generation rate indicates that your business strategy is pretty successful and allows you to calculate the potential sales when the leads convert to customers.
Backlinks
This is another key metric that shows how many other websites link back to your site. When high-authority websites on the related topic refer to your content, Google gets a signal that your information is valuable. This will pull your content higher on the SERP and lead to your website traffic growth. Monitoring these key metrics helps to realize the quality of your strategy and, if necessary, improve and adjust it for the best performance.
Conclusion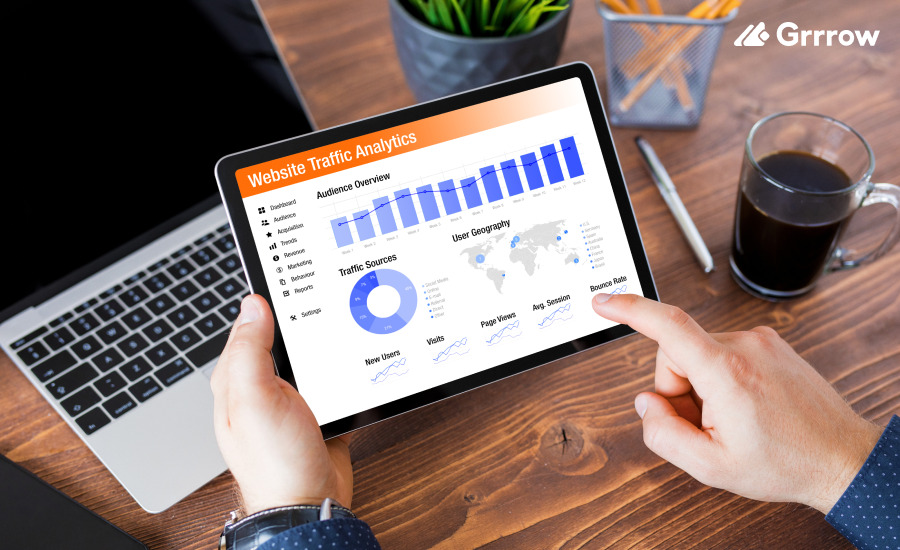 All these key SaaS marketing metrics should not be assessed separately. Therefore, you need to analyze them together to get a helicopter view of your marketing content performance.
Moreover, the discussed SaaS metrics are not the only Key Performance Indicators that you should consider to evaluate your content and achieve your goals. But they are surely subject to study if you want to improve the positions of your product or service.
---
Let your startup grow into a massive business with Grrrow.me!