1. The Importance of Local SEO for Small Businesses
Local SEO, short for Local Search Engine Optimization, is a vital strategy for small businesses. It involves optimizing online presence to appear in local search results, ensuring that businesses can connect with potential customers in their local area. Unlike traditional advertising, Local SEO is cost-effective, allowing small businesses to compete locally without the need for a national or global reach.
For brick-and-mortar businesses, a robust Local SEO strategy is crucial to stand out in a competitive local market. It involves optimizing websites, Google My Business profiles, and online listings, along with generating positive reviews and maintaining a strong online presence on social media and local directories.
In today's digital landscape, with the prevalence of mobile searches and "near me" queries, Local SEO is more critical than ever. Approximately 46% of all Google searches are for local information, making it essential for small businesses to invest in local SEO to enhance their online visibility and attract local customers. Appearing in Google's Local Pack further elevates a business's chances of reaching potential customers.
In conclusion, small businesses should recognize the importance of Local SEO in targeting and engaging with their local customer base, enhancing foot traffic, and effectively competing with larger corporations in their region. Implementing a robust Local SEO strategy is a wise investment to bolster their online presence and stay competitive locally.
2. Understanding Local SEO: How to Reach Your Local Audience
Local SEO, or Local Search Engine Optimization, is essential for businesses aiming to connect with their local audience. It involves optimizing online presence to rank higher in search engine results for local queries. Local searches are driven by geographical context, such as "restaurants near me" or "plumbers in [city]." There are three main types of local search: traditional web search, map search, and voice search.
Traditional web search involves optimizing websites and local listings with relevant keywords, location details, and customer reviews. Map search requires businesses to claim and optimize their Google My Business listing and ensure accurate location information. Voice search demands a more conversational and natural approach to keywords and easy accessibility through virtual assistants.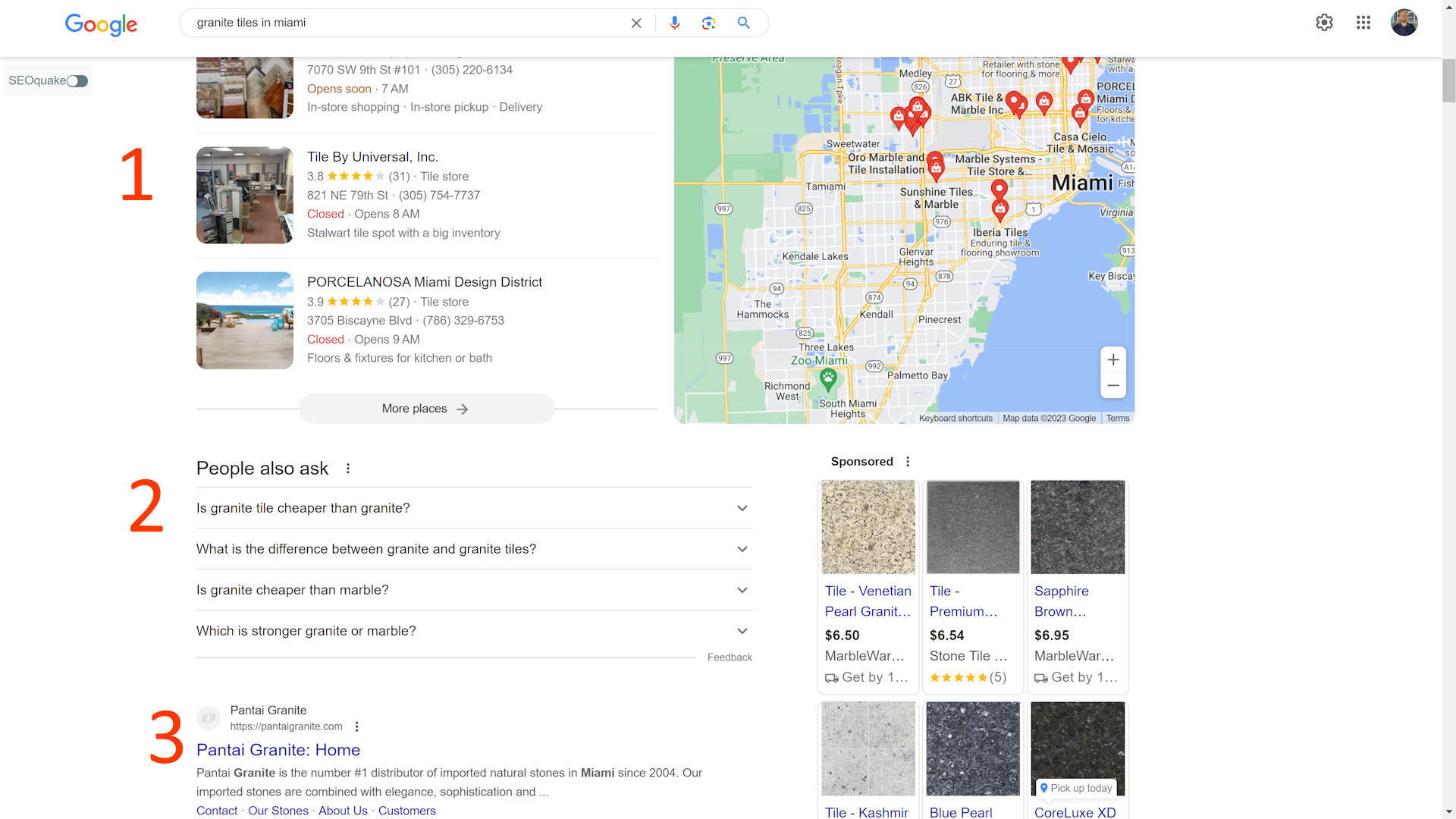 Small businesses should embrace all three types of local search to enhance their online visibility and attract local customers cost-effectively. Local SEO empowers small businesses to compete effectively with larger counterparts in their area. By optimizing for various local search types, small businesses can increase their chances of appearing in relevant search results and engaging potential customers locally. In conclusion, understanding and implementing effective local SEO strategies are crucial for businesses seeking to connect with their local audience and improve their online visibility.
3. The Importance of Managing Online Directories for Local SEO
Online directories are essential for local SEO in small businesses, serving as modern-day yellow pages that facilitate customers in finding and connecting with local establishments. Popular directories like Google My Business, Yelp, and Bing Places are crucial in this context.
Ensuring accurate and consistent listings on these directories is paramount for local SEO success. Inaccurate information can lead to customer confusion and mistrust. Small businesses should take the initiative to claim, manage, and regularly update their listings, including details like business name, address, and phone number.
Furthermore, businesses can enhance their directory listings by adding photos, descriptions, and website links, ultimately attracting more customers. Managing online directories also involves responding to reviews, including addressing negative feedback, which not only demonstrates a business's commitment to customer opinions but also improves its online reputation.
Having a presence across multiple directories enhances a small business's visibility and credibility. Regular monitoring and upkeep of these listings, aided by available tools and services, are vital to ensuring accurate and up-to-date information.
In summary, online directories are a crucial element of local SEO for small businesses. They not only boost visibility in local search results but also provide essential information to potential customers. By actively managing and monitoring their listings, small businesses can bolster their online presence and draw more local customers.
4. Challenges of Implementing Local SEO for Small Businesses and How to Overcome Them
Small businesses encounter several challenges when implementing Local SEO. They often compete against larger, resource-rich competitors, grapple with evolving search algorithms, and face constraints in time and resources. Acquiring online reviews and citations can also be difficult.
To overcome these challenges, small businesses should focus on creating high-quality content, optimizing their websites for local keywords, and building reputable backlinks. Utilizing free or affordable SEO tools, collaborating with local businesses, and participating in community events can enhance their online presence.
Encouraging customer reviews and citations is vital, and monitoring local search rankings is essential to staying competitive. While challenges exist, a strategic approach to Local SEO can significantly improve a small business's online visibility and attract local customers and sales.
5. Google My Business: The Essential Tool for Local SEO
Google My Business (GMB) is a crucial tool for enhancing local SEO and increasing a business's online visibility. GMB listings often appear prominently in Google Search and Maps results, making optimization vital.
To optimize a GMB listing, businesses should claim and verify their profile, ensuring accurate and consistent information across all platforms. Selecting the right business categories, adding photos and videos, and using GMB posts to promote events and offers are key strategies.
Tim Kahlert did an awesome mindmap discovering the complexity of today's GMB setup:
Encouraging customer reviews on GMB builds trust and credibility while improving search visibility. Regularly monitoring and responding to reviews and messages demonstrates a commitment to customer feedback. GMB also offers valuable insights and analytics to refine local SEO strategies.
In conclusion, Google My Business is an indispensable tool for local SEO. Optimizing, updating, and actively managing a GMB listing helps businesses attract potential customers in their local area and stay competitive in the local SEO landscape.
6. Local Citations and How to Build Them for Small Businesses
Local citations are an essential component of local search engine optimization (SEO) for small businesses. These citations refer to online mentions of a business's name, address, and phone number (NAP) on other websites, directories, and social media platforms. They play a crucial role in establishing a business's credibility and authority in a specific geographical area.
One of the main benefits of local citations is their impact on local SEO. Search engines use these citations to determine the relevance and authority of a business's website in a particular location. The more consistent and accurate a business's NAP information is across different websites, the higher it will rank in local search results.
Building local citations involves listing a business on various online directories and review sites, such as Google My Business, Yelp, and Yellow Pages. It is important to ensure that the NAP information listed on these sites is consistent with the business's website and other online listings. This avoids confusion for both search engines and potential customers.
Additionally, including a link back to the business's website in the citation can also improve its online visibility and search engine rankings. Small businesses should prioritize building citations on relevant and reputable websites that are specific to their location or industry. This can help them attract potential customers who are searching for local businesses or services in their area.
Regularly monitoring and updating existing citations is crucial to maintaining the accuracy of a business's information online. This includes removing any duplicate or inaccurate listings. Businesses can also proactively seek out opportunities to build local citations by reaching out to local bloggers or participating in community events and sponsorships.
For small businesses, building local citations is an important part of their local SEO strategy. It not only improves their online visibility and SEO but also makes it easier for potential customers to find and contact them. This can lead to increased sales and revenue. Consider using citation management tools or hiring SEO professionals to help with the citation-building process. By prioritizing local citations, small businesses can stand out in a competitive local market and attract more local customers.
7. Why Local Reviews are Essential for Small Business SEO
In today's digital age, online reviews have become a significant influencer in consumers' purchasing decisions. And for small businesses, this is especially crucial as they compete against larger, established brands. In fact, according to a survey by BrightLocal, 76% of consumers read reviews for local businesses before making a purchase. This statistic alone highlights the importance of having a strong review profile for small businesses.
Local reviews are essential for small businesses in the realm of local SEO. Positive reviews indicate customer satisfaction and trust, influencing a business's local search ranking. More reviews often translate to higher local search rankings and increased trust among potential customers.
Encouraging and managing local reviews involves providing excellent products or services and asking satisfied customers for feedback through various channels. Engaging with customers and responding to reviews, whether positive or negative, showcases a commitment to customer feedback.
Regularly monitoring and managing online reviews is crucial for maintaining a positive online reputation and enhancing local SEO. Tools like review management software or reputation management services can assist in this process. However, businesses should avoid incentivizing or paying for reviews, focusing instead on genuine and organic feedback.
8. ROI of Local SEO for Small Businesses
Local SEO, optimizing a website for local search results, offers a high return on investment (ROI) for small businesses. It targets potential customers in the immediate geographic area, driving foot traffic to physical stores and websites.
Research indicates the significant impact of local SEO on ROI. A Google study revealed that 50% of smartphone users who conducted local searches visited a store within a day, emphasizing its potential to boost sales. Moreover, "near me" searches have made local SEO essential, helping businesses attract nearby customers actively seeking their products or services.
Local SEO is cost-effective, precisely targeting audiences and reducing the need for expensive marketing. It leverages local keywords and content to improve search rankings, attracting qualified leads for a higher ROI. Positive online reviews and ratings, coupled with increased brand awareness and credibility, further contribute to ROI.
Local SEO's trackable and measurable nature, aided by tools like Google My Business and Google Analytics, provides valuable insights. While results may not be immediate, consistent effort and optimization can yield significant long-term ROI.
Compared to traditional advertising, local SEO offers a higher ROI by effectively reaching specific audiences, allowing small businesses to compete with larger counterparts in their local area, increase sales, enhance online visibility, and deliver positive ROI over time. Small businesses should incorporate local SEO into their marketing strategy to harness its ROI potential.
9. The Importance of Local Schema Markup for Small Businesses
Local schema markup, a type of structured data, is a valuable tool for small businesses to enhance their online presence and customer attraction. It provides search engines with detailed information about a business's location, contact details, and relevant data.
Local schema markup aids search engines in understanding a business's context, improving its visibility in local search results. For small businesses, this is crucial as it distinguishes them from competitors and enhances accuracy and consistency across online platforms.
Additionally, local schema markup can help small businesses appear in featured snippets, elevating their online presence and credibility. Tools like Schema.org and Google's Structured Data Markup Helper simplify the implementation process.
Regular updates and maintenance of local schema markup ensure accurate and comprehensive information, including customer reviews, services, and pricing. This aids in attracting potential customers and boosting website traffic and sales, particularly for businesses offering local services.
In conclusion, local schema markup is a vital component of small businesses' local SEO strategies. By providing specific information to search engines, it improves visibility, distinguishes businesses, and attracts potential customers in the local area. With accessible tools and resources, implementing local schema markup is a straightforward way for small businesses to enhance their online presence and customer base.
10. The Future of Local Search and How Small Businesses Can Stay Ahead of the Curve
Local search is an ever-changing landscape, with new features and updates being introduced all the time. For small businesses, staying ahead of the curve is crucial in order to stand out in the competitive local search market. In this blog post, we'll discuss some of the latest trends in local search and how small businesses can adapt to them in order to improve their online presence and drive success.
One major trend in local search is the increasing importance of mobile searches and voice searches. With the rise of mobile devices and virtual assistants like Siri and Google Assistant, more and more people are using voice search to find local businesses. This means that small businesses need to optimize their online presence for voice search, using natural language and long-tail keywords.
These guys really future-proof their business for local voice search:
Another trend in local search is the integration of social media and local search. Social media platforms, such as Facebook and Instagram, are now offering local search features, making it easier for users to discover local businesses through their social media feeds. Small businesses should take advantage of these features and make sure their social media profiles are optimized for local search.
In the future, AI and machine learning will play a bigger role in local search. Google's algorithm is already using AI to improve local search results, and this trend will only continue to grow. Small businesses can stay ahead of the curve by using AI-powered tools and platforms to improve their local search rankings.
It's also important for small businesses to stay up-to-date on local search trends and updates, and make necessary adjustments to their strategies. This may include regularly updating their website and content to be voice search and mobile-friendly, utilizing Google My Business and other local search platforms, and incorporating AI and AR technologies into their marketing strategies.
Collaborating with other local businesses and participating in local events and initiatives can also help small businesses stay relevant and visible in local search results. By staying ahead of the curve and constantly adapting to the changing landscape of local search, small businesses can improve their online visibility, attract more local customers, and ultimately drive more business success.