Among our clients, there are those who are not at all versed in Internet technologies and marketing tools. In this case, they can only rely on a contractor – a marketing agency that will help grow the business by attracting new customers.
The Problem Of Choosing a Contractor
When a client comes to us frustrated with the marketing results, we begin to work through the situation with them. The most common cause of problems is an unethical contractor who, instead of a full marketing mix, chooses only those tasks that can make good money. For example, it can only be online advertising, where the contractor earns his percentage of the volume of advertising or the quantity (but not the quality) of the transferred leads. At the same time, they are not engaged in the organic growth of the site and the client's site is simply not visible in the search and in Local SEO.
Here's a screenshot of one of our new clients' organic traffic, with a previous contractor advertising for many thousands of dollars.

How to Choose a Contractor
1. The first thing you need to pay attention to when choosing a contractor is the reviews of his other clients. When looking at reviews, pay attention to whether they are real or fake – what names and companies are listed in these reviews.
Ask the contractor if he can give you the contacts of some of his clients so that you can verify the veracity of the reviews and clarify how the clients liked the cooperation.
2. Results. Studying the same reviews or communicating with other clients of the contractor, try to understand what has changed with these clients, and what new results they have received thanks to the contractor. At the same time, it is important to understand the numbers – how much the influx of customers has changed, how marketing costs have changed, and how much sales have changed.
3. Experience of the contractor in the market. We all want to work only with very experienced and reputable specialists. But now the era of the formation of Internet marketing is coming and new agencies are appearing on the market every month. It is very difficult for them to get the first customers because everyone wants to work only with those who already have hundreds or thousands of reviews.
A certain monopoly is being formed among those who began to provide marketing services in time. However, this does not mean that they will have better quality services. Therefore, if your contractor is a new agency or startup, find out what experience the team members of this contractor had before the creation of their agency. Whether they have worked in marketing and whether they can demonstrate their achievements.
4. Price. This is one of the last factors to pay attention to. At the same time, neither a very high nor a very low price will guarantee high or low quality. It all depends on the abilities of the team and the standard of living in the region where the team is located.
5. Arrangements. As you know, no contract will allow you to describe all possible risks. But the risks must be minimized. Find out in advance what responsibilities the contractor leaves for himself, what he needs from you, and how transparently he will conduct business for you. More on this in the next section.
How to Control a Contractor
When a contractor hides nothing from you, he freely gives you access to all the tools that he uses. You should be able to log into your advertising accounts or marketing consoles and see how much money has been spent, how customer traffic has changed, etc.
But, even if you do not want to understand marketing tools, do the following:
Define your customer acquisition funnel. For example, an advertisement -> going to a website/landing -> filling out a form or making a call -> processing a call by a company representative -> collecting leads in CRM -> analyzing the quality of leads by those responsible for working with clients.
Get a detailed report from the contractor on the stages of this funnel for which he is responsible. For example, in the first three stages. Next, with your account manager, compare the report provided to you with how many customers you actually converted into paying/buying something from you.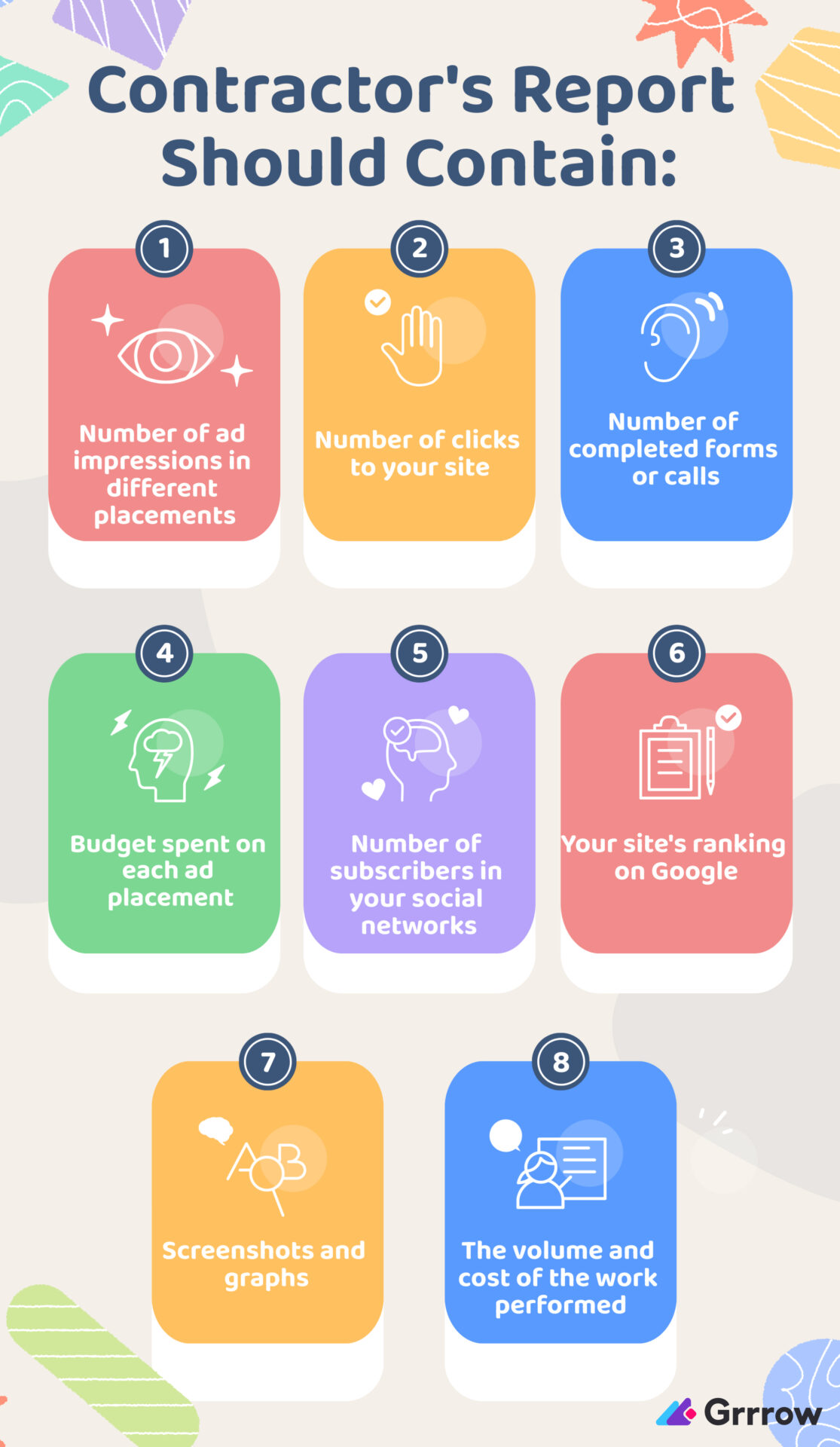 3. Compare external signs. Compare the numbers that the contractor gave you in the report with how much your customer traffic has changed – be it calls, customers visiting your office or store, or installing an important app from the App Store.
4. If you still have questions, discuss them with the contractor, and try to find out whether something is just an inaccuracy or the contractor is hiding any information from you or does not report on the money spent. I wish you success in developing your business.
 We are always happy to help you with our marketing services or free consultation!